24 November 2021 (Wed)
Programme
Yangtze River Delta Fair Trade and Industrial Cooperation and Development Summit for Auto Parts Industry 2021 
International Summit of Connected-Vehicle Policies and Regulations 2021
New Energy Vehicle Aftermarket Development Conference
2021 International Green & Intelligent Automotive Congress
New Energy Vehicle Battery Maintenance Technical Training
Cross-border E-Commerce for Automotive Aftermarket Conference 2021
International Market Development Conference of Commercial Vehicles and Engine Parts, Shanghai, China 2021
Tomorrow's Service & Mobility Summit 2021
How AIoT is Transforming Active Safety of Commercial Vehicles 
New Energy Vehicle Electric Motor Maintenance Technical Training
 
 
25 November 2021 (Thu)
Programme
Lithium Battery Transportation Safety and Market Access Seminar 2021
SAE Vehicle Electrification and Autonomous Vehicle Technology Forum 2021 (Day 1)
2021 Vehicle Based Tyre Matching Techniques and International Tyre Dynamics Testing Methods
Future Development of Auto Parts industry Summit 2021
Automotive Aftermarket Summit 2021
New Energy Vehicle Electronic Control Maintenance Technology Training
China Collision Industry Summit
The Reform of China's Repair and Maintenance Industry for New Energy Vehicle Summit
The 2nd Global Automotive Electric Drive Technology Development Leadership Summit
The 5th Application of Advanced Composite Materials in New Energy Vehicles Summit Forum 2021
 
 
26 November 2021 (Fri)
Programme
China Automobile New Energy Electric Motor And Electronic Control Industry Alliance Meeting 2021
SAE Vehicle Electrification and Autonomous Vehicle Technology Forum 2021 (Day 2)
China Used-car Reconditioning and After-sales Service Development Summit 2021
Automotive Body & Paint Conference

China International Tyre Industry Conference 2021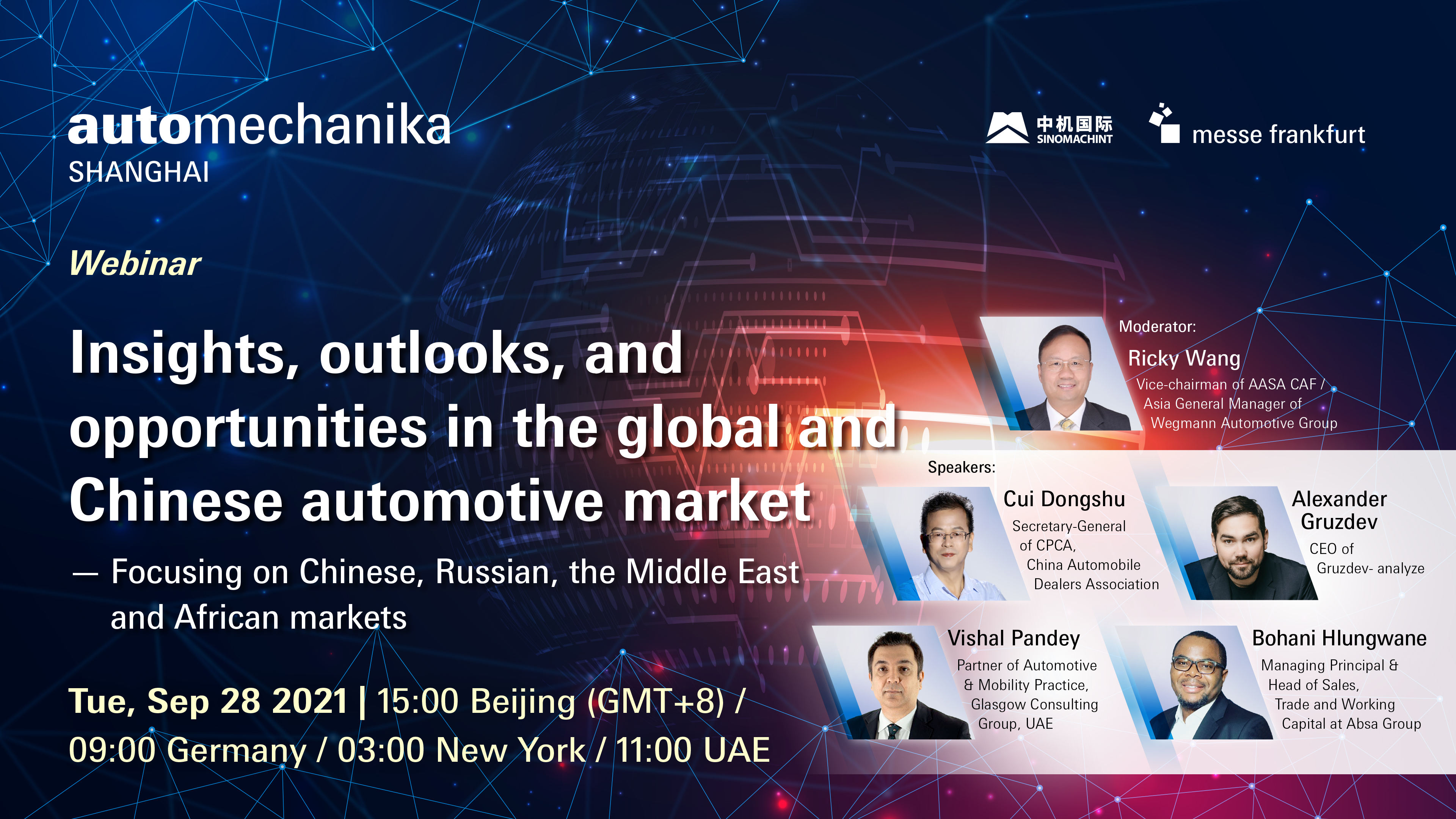 The global automotive market is slowly bouncing back. Some countries are more resilient than others. China is the first to show signs of recovery, followed by the US. Pandemic also shapes a new landscape of the automotive industry. Despite the setback of the European market, the European new energy vehicle market has ushered in rapid development in the last two years. Some emerging forces such as the Middle East, Southeast Asia, and Africa have given the industry new hope.
To this end, Automechanika Shanghai invited some of the key regional auto industry organizations and experts across the world to give audience insights into the local situation and shed light on future development opportunities.
Date: 28 September 2021 (Tue)
Time: 15:00 Beijing (GMT+8) / 09:00 Germany / 03:00 New York / 11:00 UAE
Watch the webinar on-demand
Programme
Speaker
15:00 
 
Opening 

AASA CAF Vice-chairman / Asia General Manager of Wegmann Automotive Group

15:05 ─15:25 
 

The perfect moment to enter the Russian market

Forecasts and details on unique parts distribution schemes and pricing will reveal why it is the best moment to enter the Russian market.

CEO, Gruzdev-analyze

15:25 ─15:45 
 

China's new car, used car and after-sales market 

This section will offer insights and analytics into China's auto market and the characteristics of the used car, import and export markets, along with the future potential of the aftermarket. 

Secretary-General of CPCA, China Automobile Dealers Association

15:45 ─16:05 
 

Navigating automotive consumerism and market opportunities in the Middle East, with a focus on UAE and Saudi Arabia

The talk will cover the changes of consumer behaviour and the automotive landscape (due to the pandemic) in the Middle East, with a focus on Saudi Arabia and the UAE.

Partner of  Automotive & Mobility Practice,  Glasgow Consulting Group, UAE

16:05 ─16:25 
 

The development status, characteristics and future prospects in the African automotive market

It will discuss the shifts in supply chain, what the African Continental Free Trade Area (AfCFTA) means for the automotive sector and how exporters can better prepare with the changes. 

Managing Principal & Head of Sales, Trade and Working Capital at Absa Group
(Information as of 09 Oct 2021)