The Mainstage is a prime showcase championing contributions made to the advancing innovations across the value chain. Its forum area, networking lounge, and product showcase create an ideal environment to share new ideas, network with like-minded players and celebrate transformations propelling the new automotive era forward.
| | |
| --- | --- |
| Date | 29.11 – 2.12.2023    |
| Venue | National Exhibition and Convention Center (Shanghai) Hall 5.1 Booth F09 |
Product Range & Target Audience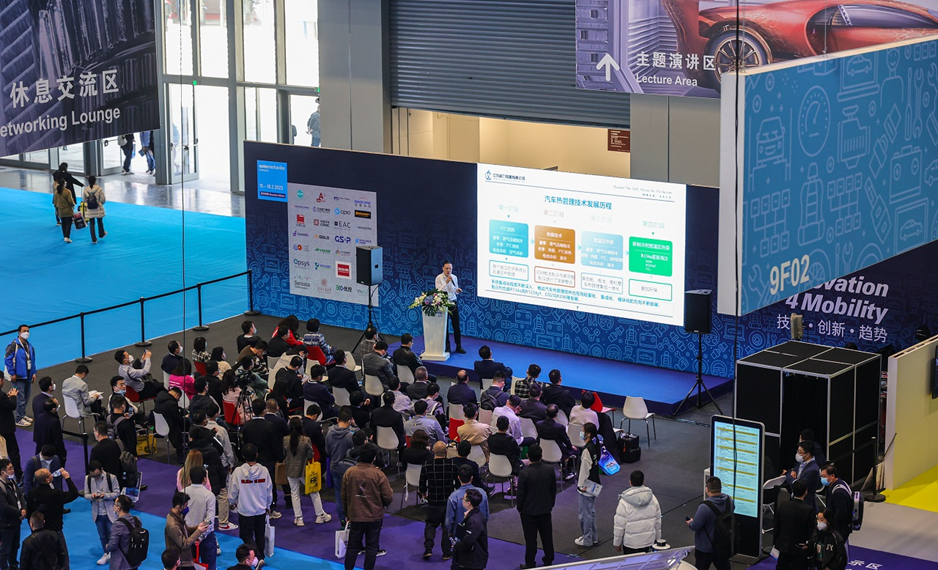 Product Range:
Connected and autonomous driving: self-driving car, manufacturers, ADAS, intelligent hardware, radars, chips, sensors, voice interaction, intelligent cockpits, and more
Hydrogen energy and fuel cells: stacks and systems, fuel cell testing, and fuel cell stack components
Detection Institutions, research institutions, universities
Target Audience:
Car manufacturers, government procurement departments, Tier 1 suppliers, Tier 2 suppliers, Charging station operators, trade associations, research institutions, logistics fleets, investment institutions, etc.
10:30 – 12:00   Hydrogen fuel cell and cell stack technology

10:30 – 11:00

The prospects for the commercialisation of fuel cells in China

11:00 – 11:30

Hydrogen fuel cell technology and application in Europe

11:30 – 12:00

Commercial application of fuel cell heavy trucks
13:30 – 14:30   Charging and swapping solutions
13:30 – 14:00
How to accelerate the popularity of charging stations in the countryside?
14:00 – 14:30
How an efficient charging and swapping system enhances the user recharging experience
14:30 – 16:00   Intelligent chassis
14:30 – 15:00
Chassis 2.0 - the Future of the Chassis
15:00 – 15:30
Advantages of skateboard chassis: high integration, high versatility and high scalability
15:30 – 16:00
Battery thermal management system
16:00 – 17:00   Intelligent drive technology and application
16:00 – 16:30
Introduction to connected vehicle product testing and innovative platform
10:30 – 11:30   Charging and swapping solutions
10:30 – 11:00
EV Charging Index release
11:00 – 11:30
Compatibility between swapping stations and car models, and battery storage solutions
13:30 – 15:00   Overseas market outlook
13:30 – 14:00
Explore and invest in Malaysia market
14:00 – 14:30
Explore and invest in Thailand market
14:30 – 15:00
Compliance of automotive products exported to Europe
15:00 – 16:30   Intelligent drive technology and application
15:00 – 15:30
Intelligent driving solutions empower smart mobility
15:30 – 16:30
Application of intelligent driving components
10:00 – 11:30   Cross-sector collaboration and innovation
10:00 – 10:30
The development of automotive technology from the perspective of investment and financing
10:30 – 11:00
Ultimate driving experience defines future automotive technology
11:00 – 11:30
Additive manufacturing empowers the automotive industry
13:30 – 14:30   Intelligent chassis
13:30 – 14:00
AEBS+EBS solutions
14:00 – 14:30
Case study on semi-active and active shock absorbers
14:30 – 16:00   Sustainability of the automotive industry
14:30 – 15:00
Repair and remanufacturing policies in bonded areas
15:00 – 15:30
The evolution of the remanufacturing landscape in Europe
15:30 – 16:00
Citroën concept car Oli created with materials and expertise from BASF
10:30 – 11:30  Sustainability of the automotive industry
10:30 – 11:00
Construction of power battery recycling and cascade utilisation system
11:00 – 11:30
Remanufacturing of engines and power batteries
*Information as of 1 September 2023