As one of the Showcase Areas under Innovation4Mobility, Green Repair Area (Hall 6.2) will return to the show. The area will spotlight systematic changes to the aftermarket, such as infrastructure, skilled labour, equipment and accessories, through product displays, live demonstrations, training workshops and open forums.
| | |
| --- | --- |
| Date | 29.11 – 2.12.2023    |
| Venue | National Exhibition and Convention Center (Shanghai) Hall 6.2 Booth M80 |
Range of Products & Target Audience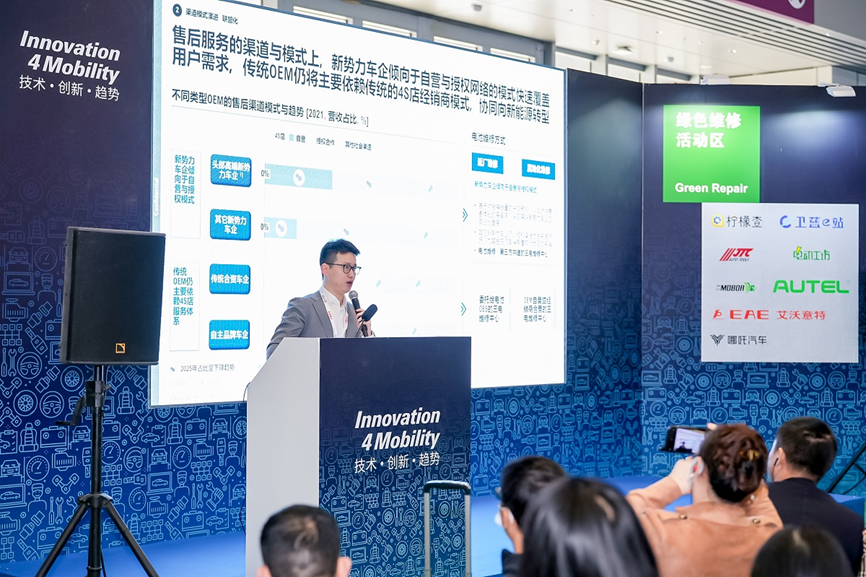 Product Range:
Power batteries, automotive production;
New energy vehicle repair and maintenance, tools and diagnostics: lifts, power battery lifters, insulation tools, tool cabinets, OBD diagnostic equipment, power battery balancers, charging and discharging equipment, power battery airtightness testers, etc.
Eco-friendly paint: water-based paints, dust-free sanding machine, sanding paper, spray guns, filter pads, sheet metal spray assembly line, VOCs catalytic combustion equipment, etc.
Smart car wash: car wash machines, car wash arms, wastewater recycling systems, etc.
Target Audience:
Repair shops, car wash and beauty shops, independent repair chain stores, 4S groups, parts/warranty providers, vocational and technical colleges, etc.

10:30 – 12:00  Seizing the new opportunities in the global green repair market
10:30 – 11:00
Exploring the Southeast Asian aftermarket and the demand for maintenance products
11:00 – 11:30

Unveiling the current state and future technological innovations in the global automotive collision repair market

11:30 – 12:00
The latest profitable trends for repair workshops: digitalised recycling platforms for new energy power batteries
13:30 – 16:00 Technical training on the repair of new energy vehicle power batteries, electric motors and electronic control (1)
13:30 – 14:30
New energy vehicle high voltage training
14:30 – 16:00
Analysis of new energy vehicle repair
10:30 – 12:00  Technical training on the repair of new energy vehicle power batteries, electric motors and electronic control  (2)
10:30 – 12:00
Analysis of new energy vehicle repair
13:30 – 16:30 Innovate, collaborate, and enhance the development of the automotive maintenance industry
13:30 – 13:40
Opening remarks
13:40 – 14:00
Exploring the trends in research & development, and manufacturing of new energy vehicle maintenance equipment
14:00 – 14:20
China's auto maintenance equipment manufacturers' blueprint for global expansion
14:20 – 14:40
How distributors empower automotive maintenance shops with integrated solutions
14:40 – 15:30
Panel discussion 1: Partnering with manufacturers for an integrated sales and service channel network
15:30 – 16:30
Panel discussion 2: Transformation strategies for auto maintenance shops, and how to embrace opportunities and challenges in the new energy vehicle aftermarket
10:30 – 12:00  New energy vehicle summit on industry-education integration
10:30 – 10:50
The latest policies, regulations, and development trends of industry-education integration
10:50 – 11:10
Fostering a diverse talent ecosystem through industry-education collaboration
11:10 – 11:30
Mastering new energy vehicle aftermarket repair skills for traditional automotive repair personnel
11:30 – 12:00
Panel discussion: Building a high-level talent development system: Exploring teaching standards for new energy vehicles
13:30 – 15:30 Innovative product and project release (1)
13:30 – 14:00
Introduction to advanced body measuring systems and case studies in maintenance
14:00 – 14:30
Innovative disassembly and lifting products for new energy vehicles
14:30 – 15:30
Digital battery testing and analysis solutions
10:30 – 12:00  Innovative product and project release (2)
10:30 – 11:00
How intelligent car washing equipment enhances store efficiency
11:00 – 11:30
Enhancing workshop efficiency: water based spray paint solution
11:30 – 12:00
Case studies on maintenance projects for new energy vehicle chassis
*Information as of  1 September 2023